Culture
Great Places to Have Thanksgiving Dinner in London
It's that time of the year again, when everyone comes together to give thanks and stuff themselves with unimaginable amounts of food. Thanksgiving may be a US tradition, but if your and your friends are looking for an excuse to eat then why not jump on board? (Assuming you have the extra cash of course…) These are some places where you can have a delicious Thanksgiving dinner in London.
The Breakfast Club
The Breakfast Club, on an average day, does a mouth-watering variety of all-day breakfasts. However, on Thanksgiving today they are also doing a three-course meal with butternut bisque, turkey and a pumpkin pie for dessert! They even have a vegetarian alternative of mac n cheese and spiralized sweet potato. Book now for only 28 quid!
The Blues Kitchen
A bar with live blues in Shoreditch, the Blues Kitchen has a great atmosphere. It's also doing a Thanksgiving dinner this year before all the dancing begins! You can choose from mac n cheese and buttermilk fried turkey for a lovely satisfying meal. Don't forget to be thankful!
Balthazar London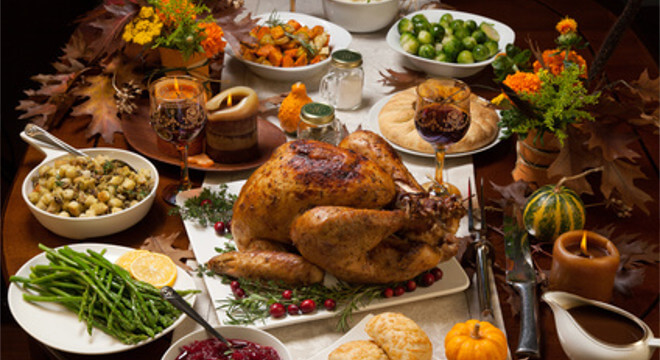 Perhaps not the cheapest option on this list, Balthazar in Covent Garden is whipping up a fancy all-American thanksgiving lunch and dinner. Lots of turkey and pie, the only problem is you need to fork out 55 quid for it…
Vegan Night Market
For out plant-based friends, a vegan night market will be coming to Brick Lane tonight, November 23rd! It's not exactly Thanksgiving themed but there is an abundance of food that you can eat. From 'fried chicken' to 'steak', you'll definitely be thankful you took the time out of the day to give this night market a visit!
Your Kitchen
Yes, you saw right. If you want a Thanksgiving dinner option that won't break the bank, why not come together with your friends and cook a delicious meal together? Buy a turkey, get some stuffing, mash some potatoes and get your chef hats on. It will be a fun day that you'll all remember!